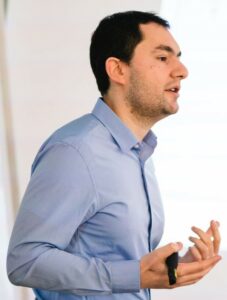 Sprechstunde: nach vorheriger Vereinbarung per E-Mail
Hinweis: studentische Anfragen nur über zdv-account@students.uni-mainz.de
Short bio
Prof. Dr. Andranik Tumasjan is a professor and head of the research group of management and digital transformation (MDT) at the Johannes Gutenberg University of Mainz, Germany.
His work focuses on how the broader phenomenon of digital transformation influences management, and the emergence of new organizational forms, HRM and work design, business models, and entrepreneurial opportunities. His current research and teaching focus is on the potential of blockchain technology for novel business models and organizational forms.
He graduated with a diploma from Ludwig Maximilians University of Munich and received both his doctoral degree (Dr. rer. pol.) and postdoctoral degree (Dr. rer. pol. habil.) in management from the Technical University of Munich.
As a fellow of the China Scholarship Program (German Academic Scholarship Foundation and Alfried Krupp von Bohlen und Halbach Foundation), he studied at Nanjing University (China) and was a visiting scholar at Columbia University, New York and the University of California, Los Angeles.
He is a research associate at the Centre for Blockchain Technologies at University College London (UCL CBT) and an associate editor of the journal Frontiers in Blockchain. In addition, he serves on the editorial board of the Journal of Business Venturing and is an ad-hoc reviewer for numerous management and interdisciplinary journals. He acts as a liaison professor of the German Academic Scholarship Foundation (Studienstiftung des deutschen Volkes).
His work has received several national and international awards, including Best Paper Awards from the Academy of Management (AOM), the Hawaii International Conference on System Sciences (HICSS), and the German Academic Association for Business Research (VHB). The WirtschaftsWoche BWL ranking 2020 ranks him among the top 100 business administration scholars under 40 in terms of research output.
His research has been published in leading academic management journals and covered in the media, such as the Harvard Business Review, Financial Times, Süddeutsche Zeitung, Die Welt, SWR, and WirtschaftsWoche.
Research interests
Digital transformation: Entrepreneurial, management, work, and organizational implications
Blockchain business models and applications
Innovative organizational and entrepreneurial behavior
Awards
Entrepreneurship Research Newcomer Award 2020, G-Forum Conference
Best Paper Award 2018, 51st Hawaii International Conference on System Sciences (HICSS)
Best Empirical Paper Award 2015, Academy of Management Annual Meeting, Entrepreneurship Division
Excellence in Reviewing Award 2013, Journal of Business Venturing
Dissertation Award 2012 of the Bund der Freunde der TU München e. V.
VHB Best Practice Paper Award 2010, Verband der Hochschullehrer für Betriebswirtschaft
(German Academic Association for Business Research)
Outstanding Reviewer Award 2010, Academy of Management Annual Meeting, Organizational Behavior Division